Last week my proposal to make a gigantic wooden swastika was totally censored.
"Why is that?" I can hear you all asking yourselves. Well apparently it wasn't anything to do with the shape
,
as they've claimed to have seen this sort of thing a million times, that no one even cares it's a swastika.....but then later they asked me if it would be possible to change the construction to a different shape, such as...... wait for it..........a cross!
A cross! How totally depressing! I've never understood why people consider them "holy" and wear them on their necks, how's mangalation, blood and nails got anything to do with "ascension" into heaven? Sounds like some christian-terrrorist propaganda to me....
How typical, this is the first time I tried to actually make something beautiful and aesthetic, and of course it had to go and backfire. My filmmaking neighbour, Sander, says I should just send them a video of Rambo saving the world from AIDS (but killing 10,000 people in the process)...they ought to have some sort of intellectual banter about that.
The funny thing is, this time the curators were not even Thais (nor German), who often censor trivialities such as a monk kicking a football in Apichatpong Weerasetakul's "Syndromes and a Century" or Michael Shaowanasai taking a photograph of himself dressed as a monk, and being arrested because he's gay.
QUESTIONNAIRE: Which do you prefer?
a) Christians doing something silly with a cross.
b) Beautiful, sacred, remover of all obstacles-the original swastika.
Answer below.
(A)

This image is too gross

too be posted on this blog.

(B)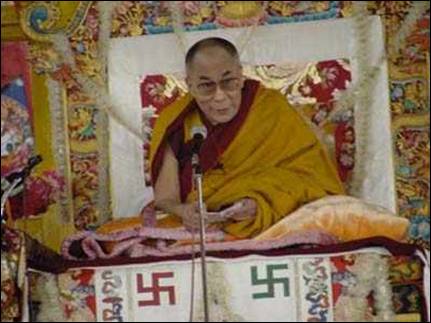 Well anyway, if you want to buy my swastika drawings, you can contact me
here
(and if you happen to meet any curators that were once daredevil motorcyclists or original members of Spandau Ballet, please also let me know)